An innovative online skills training program, Inflight Skills Academy, teaches independent living, vocational, and social skills to individuals with intellectual and developmental disabilities and autism.
Online learning has become common in education, and for good reason: it offers learners the flexibility to learn at their own pace, allows the learner to schedule class time around their busy schedules, provides access to those in rural areas or with limited access to transportation, uses technology to make the content more accessible (such as closed captioning, audio, visual, recorded seminars, multi-modal assignments and more), and provides the "quiet learner" the opportunity to be heard. The Adjoin Catalyst division is offering this unique post-secondary programming designed with neurodiverse learners in mind but open to all learners!
Learn about the courses and enroll today!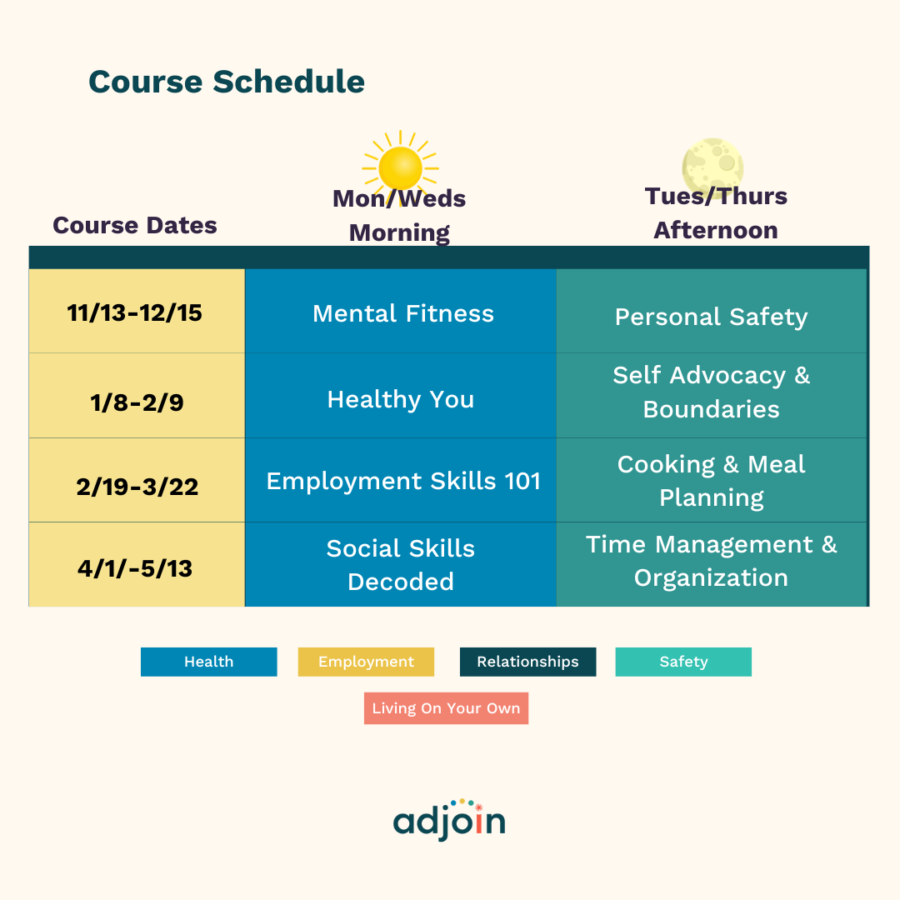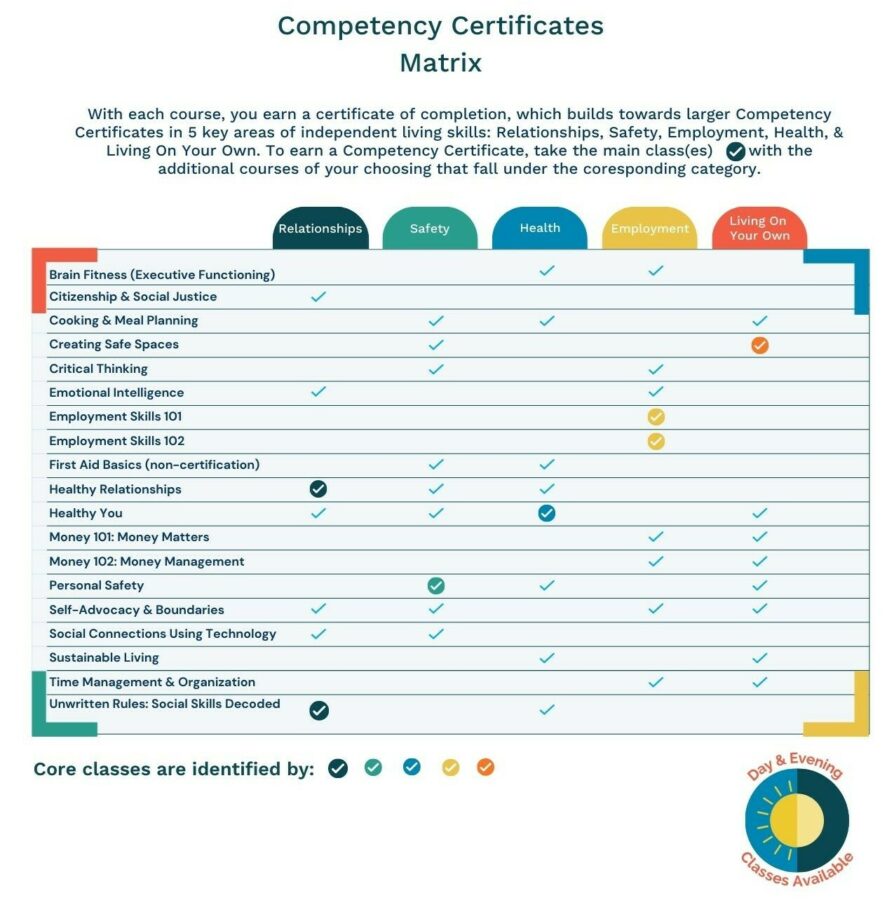 Self-Advocacy and Boundaries
Self-Advocacy and Boundaries
Learn to be your best self-advocate! In this course, you will learn why self-advocacy is important and why it is important to YOU! You will participate in activities that will help you identify your personal strengths and the supports around you, practice setting boundaries and saying "no," and find ways to take action and get involved with self-advocacy groups in your community.
Social Skills and Healthy Relationships
Social Skills and Healthy Relationships
Disclaimer: This course will cover many sensitive or mature topics, including abuse, sex & sexuality, gender identity, and sexual identity. We understand that relationships can be complicated, and we are here to help. In this course, you will practice recognizing the differences between healthy and unhealthy relationships, identify what you are looking for in healthy relationships, and learn how to make healthy decisions about sex and sexuality. You will also get to practice social skills that are helpful in maintaining healthy relationships, including verbal and nonverbal communication, reflective listening, conflict resolution, and problem solving.
Healthy You
Healthy You
Being healthy is more than just not being sick! In this course, you will learn about the power of physical activity, sleep, food, connection, and healthy relationships in your healthy life. You will get to practice habits that can help to reduce stress and create a personalized plan for keeping your body, mind, and spirit healthy. Welcome to Healthy You!
Social Connections Using Technology
Social Connections Using Technology
Looking for fun ways to connect with friends and family when you can't be together in-person? In this course, you will experiment and practice using many different apps and websites to strengthen your social connections using technology. Start by learning about screen time and self-care, social and digital boundaries, and safe and responsible use of social media; then get connecting with activities from video chatting to virtual book clubs, exercising together to taking a virtual trip together!
Personal Safety
Personal Safety
Your personal safety is our top priority! In this course, you will learn tips and tricks for staying safe wherever you are: in your home, outside, even on the internet. You will get to practice keeping your passwords secure and recognizing and reacting to risky situations, like internet scams. Learn about safety related to your health, preventative care, medication management, and more, and leave this class with more confidence in staying safe. Remember, safety first!
Time Management and Organization
Time Management and Organization
So much to do, so little time; or so you thought! In this course, you can take back control of your time by learning about procrastination, identifying your time wasters, and discovering tools that can help you organize. You will learn to estimate, visualize, and prioritize based on your values and goals, and will create a personalized plan for managing your time – let's do this!
Cooking and Meal Planning
Cooking and Meal Planning
Let's get cooking! This course will guide you through making a meal plan, creating a grocery list, following a recipe, and cooking a meal! You will learn about the utensils and appliances in your kitchen, healthy food choices, and kitchen and food safety skills, including knife skills, fire safety, and how long those leftovers are safe to eat! Share your favorite recipes and learn new ones from your classmates – "bon appetit!"
Money Management
Money Management
Money management is a key component of independence, and we are here to help! Through games and interactive scenarios, you will get to practice balancing income and expenses, creating financial goals, budgeting for your needs and wants, and being an informed consumer. With optional activities to practice adding, subtracting, and counting money, this course will help every student build confidence in money management and financial decision making.
Creating Safe Spaces (Living on Your Own)
Creating Safe Spaces (Living on Your Own)
Living on your own comes with new responsibilities, including making your living space a safe place to be. In this course, you'll learn about the hazards and risks in each room of your living space and how to deal with them, how to set physical and emotional boundaries, and you will make plans for what to do in case of emergency.
Brain Fitness (Executive Functioning)
Brain Fitness (Executive Functioning)
Your brain is like a muscle, and it can get stronger with exercise just like the rest of your body! Using games, puzzles, and interactive scenarios you will learn how to exercise your brain to increase your memory, boost your mental flexibility and problem-solving skills, decrease your distractions, and more. Let's get our brains in tip-top shape!
In partnership with: STRIVE WORLDWIDE
About STRIVE: STRIVE is a Maine-based 501(c)(3) organization that serves individuals with intellectual disabilities as well as individuals with mental health issues. After providing services in-person to Maine residents for over 20 years, STRIVE WorldWIDE is a first-of-its-kind effort at bringing these services online to teach independent living skills. For more information on STRIVE, you can visit www.pslstrive.org.
Self-Determination
The Self-Determination Program is an innovative service design option available to Regional Center clients which empowers individuals the freedom to design and choose the support services at the frequency that meet the needs of their person-centered plan. The individual makes decisions based on what is important to them. Outside the box services and supports are allowed by Regional Center vendorized or non-vendorized service providers. All participants are responsible for developing a budget and spending plan to contract and maintain their paid support network.