Text Your Name and City to 858.292.2033. For More Information.
Join our team and ignite the possibility in you!
At Adjoin, we don't just view the work we do as a job, or a way to earn a paycheck; we are on a mission. We are igniting possibility for our clients, our team, ourselves, and the world. We don't think small here!
What is possibility, you ask? It is the reason we get up in the morning and look forward to going to work. It is what keeps us going even when things get challenging. It is the pride we feel in knowing that we are part of something bigger than ourselves. We want this for you, too!
The possibilities are truly endless for how we can make an impact. Join our team and find your purpose and the possibility in you!
Our positions
At Adjoin, we all contribute different talents, strengths and passions to the fulfillment of our mission. We are seeking individuals who want more than a paycheck, who each ignite possibility in their own unique and distinctive ways. Whether you work in our Veterans division supporting individuals to secure housing, help clients with developmental disabilities be more independent, or work in an administrative role, you will find possibility in being part of something bigger than yourself.

Comparison of our Benefits with Similar Organizations: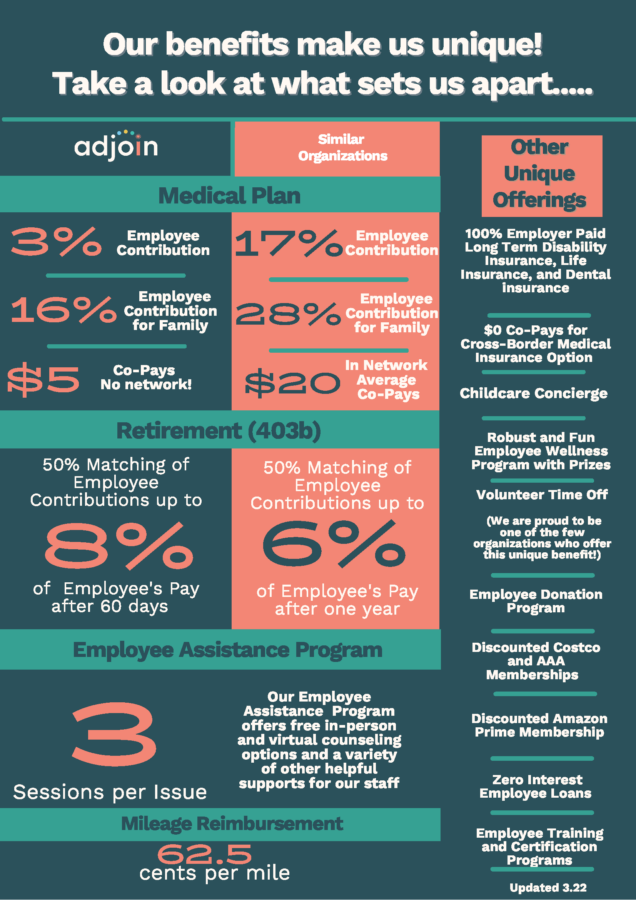 Check out our open positions across California by clicking the button below.
What makes us unique
We truly believe that our work is more than just a job, we change lives! We seek to find ways to make an impact, contribute to our communities, take care of ourselves and each other.
One Flutter volunteer program
Adjoin is proud to support our employees making a difference in our communities in unique ways! Adjoin employees receive paid time to volunteer for a cause that is important to them, and also receive reimbursement for donating to a charitable cause.
Live Well, Be Well program
Doing good work and helping others sometimes means we don't prioritize taking care of ourselves. Our wellness program was built to help our employees support and encourage each other in focusing on our health and well-being. From an app that integrates with your smartphone to wellness challenges and prizes, we want to make it easy and fun!
Our Benefits
Adjoin offers a range of competitive employee benefits programs for our diverse workforce. Our benefits are tailored to support our people, who are at the heart of our mission, so they can focus on what really matters to them. We are pleased to offer the following benefits to regular full-time employees:
Holistic wellness approach
Comprehensive HMO and PPO medical plans (including a cross border plan for employees that live along the Mexican border)
Dental and vision plans
Flexible spending accounts
Employee Life/AD&D as well as Dependent Life – at no cost to employee
Long Term Disability – at no cost to employee
Voluntary Term Life Insurance
Critical Illness & Accident Insurance
Employee assistance program
Wellness Program – Wellness App for tracking, monitoring and wellness content along with free raffle prizes for participants
Time to re-energize
Holiday paid time off
Paid Time-Off (PTO) program (accrual based on years of service)
Float Day Off
Paid Sick Time
Volunteer paid time off through our One Flutter Program
Investing and prioritizing financial wellness
403(b) savings plan with generous company match ($0.50 for every $1 up to 8% after a year of employment)
Employee Loans – regardless of employee's credit for unplanned expenses, paying down expenses and even supercharging savings goals.
Additional perks and benefits
Discounted Costco & AAA membership
Quarterly values awards
Employee referral program
Mileage reimbursement
Smart device reimbursement
Donation reimbursement through One Flutter Program for monetary contribution to eligible nonprofit of your choice
Perks at Work - Save on everyday products, services and events
Want to learn more?